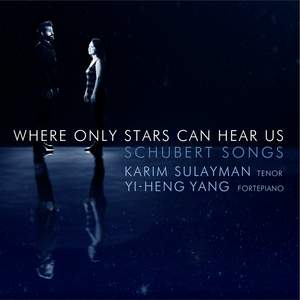 WHO:
Karim Sulayman, tenor; Yi-heng Yang, fortepiano
WHAT:
Songs by Schubert
RELEASED:
March 2020
LABEL:
Avie Records
A few months ago, I had the fortune to see the Kaleidoscope Vocal Ensemble give a workshop here in New Haven as part of their inaugural performance weekend (my thoughts
here
). I was milling about afterwards and ended up briefly chatting with one of their tenors, Karim Sulayman.
Rewind for one second: Sulayman's first solo album (I think? Karim, feel free to correct me on this post's Twitter thread) won last year's Grammy for Best Classical Vocal Solo. That album, an Orpheus-themed program he recorded with Cleveland baroque ensemble Apollo's Fire, deserved every bit of that gold statue.
Anyway, I told him I was a sometimes-critic and that I loved his first album, and he said, "Oh, you should review my second album which comes out in March!" I'm sure he's talked to a lot of people since that September night, and I have no reason to believe he would remember this exchange six months later. But hey, I was planning to listen to the album anyway, might as well write a thing or two.
This Schubert has its priorities straight. Text comes first in Sulayman's interpretations. The small inflections in his timbre convey textual themes equally well to audiences of all German-speaking levels -- take that from me (three semesters of college German) and my best friend (a lifetime of Mahler scores and nothing else). From the seemingly bratty child in
Erlkönig
(RIP), to the poignantly longing fisherman of
Des fischers Liebesglück
, he is an actor first.
If you do nothing else, watch this video. Like, I'd rather
you
watch this video than read my review. Completely serious.
But, of course, that's not to detract from his voice, clear and transparent. He barely covers his sound, allowing every ounce of that underlying emotion to shine through -- have you ever heard what a smile sounds like? Now I have.
Both performers treat these
lieder
as chamber music. It's unclear who leads the stretches that come so often throughout the album, but whenever one part pushes, the other follows. Yang's slightly delayed cadences gain weight with a quick breath from Sulayman. Sulayman stretches a phrase climax, Yang rolls a chord to help accent. The two work symbiotically, melding the intense drama from each of their parts into a composite, deeply affecting pathos.
I want to hear Yi-heng Yang play more Schubert on this amazing 1830 fortepiano. What are the odds someone can fund her to do a sonatas album? (Plus, her
Erlkönig
was....just wow. Especially considering the slow action on most fortepianos....wow. Wow wow wow.)
Schubert is parlor music. I really don't need to hear a Wagnerian heldentenor shake the walls with
Winterreise
. A good Schubert duo goes overboard in their story-telling, but not in their sound production -- the walls don't need to shake as long as my heart is full. Sulayman and Yang are a good Schubert duo. Perhaps even a great Schubert duo. Or maybe an unstoppable Schubert duo.
Old people, a word from the next generation: stop crying about how we'll "never have another Pavarotti" and instead listen to the immensely talented tenors that we
do
have. You might be pleasantly surprised.
Besides which, can you imagine Pavarotti singing Schubert? Ew.