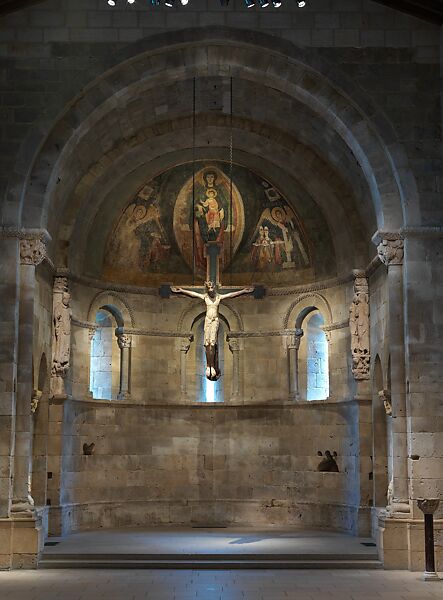 WHO:
Les Arts Florissants; Paul Agnew, director
WHAT:
GESUALDO
Tribulationem et dolorem
; Responses for Maundy Thursday;
Miserere mei Deus
(Psalm 50)
WHERE:
Fuentidueña Chapel at The Met Cloisters
WHEN:
October 20, 2019 at 1:00pm (yes, I know I'm late)
I think I'm starting to get the hang of these concerts at The Cloisters. I usually don't get lost on my way from the subway station anymore. I know where all of the good views across the Hudson are (
#doitforthegram
-- except I'm not on Instagram because I'm a #grandma). And when I walked into the Fuentidueña Chapel for the second time in 24 hours, the 12th-century statue of Jesus hanging from the cross started chatting me up as if we were old friends.
Divine intervention? Sleep deprivation? The world may never know.
I missed Les Arts Florissants when they did a huge French baroque opera spectacle at the Brooklyn Academy of Music last year. Unfortunately, I have to prioritize school first (much as I wish I didn't) -- I occasionally drop down into NYC for a concert here or there, but I often pay the price of a sleepless week to follow.
I saw the listing for this concert. I checked my calendar. October break. It was destiny. Or maybe just luck. But either way, I had to go. I grabbed a ticket.
So, for those of you who don't know Les Arts Florissants, let me tell you a bit about the ensemble. They have an orchestra and a choir, both of which are fantastic. They got their start in France in the late '70s; American expat harpsichordist William Christie was the director, and still is today (although British tenor Paul Agnew is starting to take over more and more responsibility -- Christie is getting up there in years). And their recordings are all immaculate. Unlike many similar ensembles, whose recordings have shown a steep quality incline in the last couple decades, Les Arts's 1980's recordings are just as clean as those of the last few years.
Considering that fact, I left the concert with a somewhat cynical opinion: "They were amazing -- who knew?"
Bottom line: Gesualdo is difficult. Very difficult. His harmonic language borders on non-functional, almost to contemporary levels. As my father so wisely told 13-year-old me: "You like Bartók? You should try Gesualdo." But I know Les Arts well enough to know that they wouldn't put up a mediocre performance.
Of particular note were the singers at the lower ends of the ensemble. Bass Edward Grint had this plaintive musk to his voice, one that provided a stable resting place for the other five vocalists. Paul Agnew was great as usual (ah, what I would give to be a tenor...), though most of his focus went to shaping the music with tiny, unobtrusive hand gestures. Mélodie Ruvio gave a particularly thrilling performance, a phrase that I don't think I've ever used to describe a choral alto part before. And, when the whole group came together for the chants between verses of scripture...chills.
I don't think there's anything more to say. Les Arts Florissants can do no wrong. If they come around to your neighborhood, DO NOT miss them at any cost. And that's an order.